1-to-1 in-person Portuguese classes in Florianópolis
Lagoa da Conceição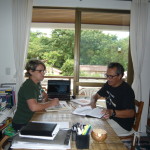 It is a 1-to-1 or small-group course designed for each student´s needs, weaknesses and strengths, based on a practical, direct and conversational approach where grammar, reading and writing are just a natural consequence.
My first goal is to build my students' confidence along with a worry-free attitude to go out and try the language.
I always take my students wherever I go to, so they can experience our Brazilian life (traditions & culture,  dance, fine arts, history, geography, economy, our friendly people, culinary delights…) and improve their language learning process faster.
Florianópolis – the magic island, where I live and teach – is for those who love nature and peace, the Island is surrounded by wonderful beaches, stunning scenery, blue sky, and lovely people.
By learning Portuguese your experiences down here will be much more enjoyable.
Beginners to high-advanced, all are welcome to LEARN PORTUGUESE with Celisa Canto, and yes, you who wants to take the CELPE-BRAS exam as well.
CELPE-BRAS PREPARATORY COURSE
The only official Certificate of Proficiency in Brazilian Portuguese as a Second Language recognized and developed by MEC – Brazilian Ministry of Education.
In case you are interested in taking the CELPE-BRAS exam, get prepared to face it either in April or October.
Besides other capitals in Brazil, you can also take it at the Federal University of Santa Catarina – UFSC, in Florianópolis.
My 1-to-1 preparatory course runs all year round, but it is advisable to book it in advance.
The syllabus that covers this course is based on the CELPE-BRAS demands.
Mock tests are applied during the course so that you can get familiarised with this kind of exam and do not have any surprises.